Infusion énergisante Kapha - Inde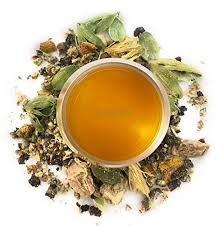 Infusion énergisante Kapha - Inde
---
Une infusion à apprécier en cas de coup de mou, et de grosse fatigue. Elle peut remplacer votre café du matin!
Ingrédients : gingembre, séché, réglisse, poivre noir, cardamome, clous de girofle, curcuma, safran.
Ayurvedic Balance – Energizing Kapha Tea
A tea to enjoy when you are feeling depressed, demotivated and lethargic. Savouring
a few sips of Nargis Ayurvedic Balance Energizing-Pitta Tea will make you feel
uplifted, stable and stimulated and leave you feeling revived and ready to face the
world.
Ingrediants
An energizing blend of spices such as Licorice, Cardamom, Ginger, Clove, black
Pepper and Turmeric that perk up one's body and mind and helps bring the disturbed
Kapha Dosha back into a state of balance very important for leading a healthy life.
Dry Ginger (rhizome) – Its is a warming spice that aids in stomach ailments as well
as common cold. It is great for pacifying the Kapha Dosha.
Licorice (root) – Acts as a soothing agent and useful in balancing the Vata, Pitta with
the Kapha Dosha.
Black Pepper (fruit) - It helps the free flow of oxygen to the brain, helps enhance
digestion and circulation, and stimulates the appetite. It has antioxidant properties
Cardamom (fruit) – Useful in treating digestive problems such as bloating, heartburn
and constipation.
Clove (flower bud) - Considered to enhance circulation, digestion and metabolism.
Turmeric (rhizome) – Helps to detoxify the liver, help maintain balanced cholesterol
levels, help maintain a healthy response to allergens, stimulate digestion, and
support immunity and a healthy complexion. It is widely used in Ayurveda.
Saffron – Ayurveda's Golden Spice helps pacify all three doshas.
Important: If you are pregnant or nursing, or have a known medical condition, consult
your physician before taking this or any other dietary supplement.
---